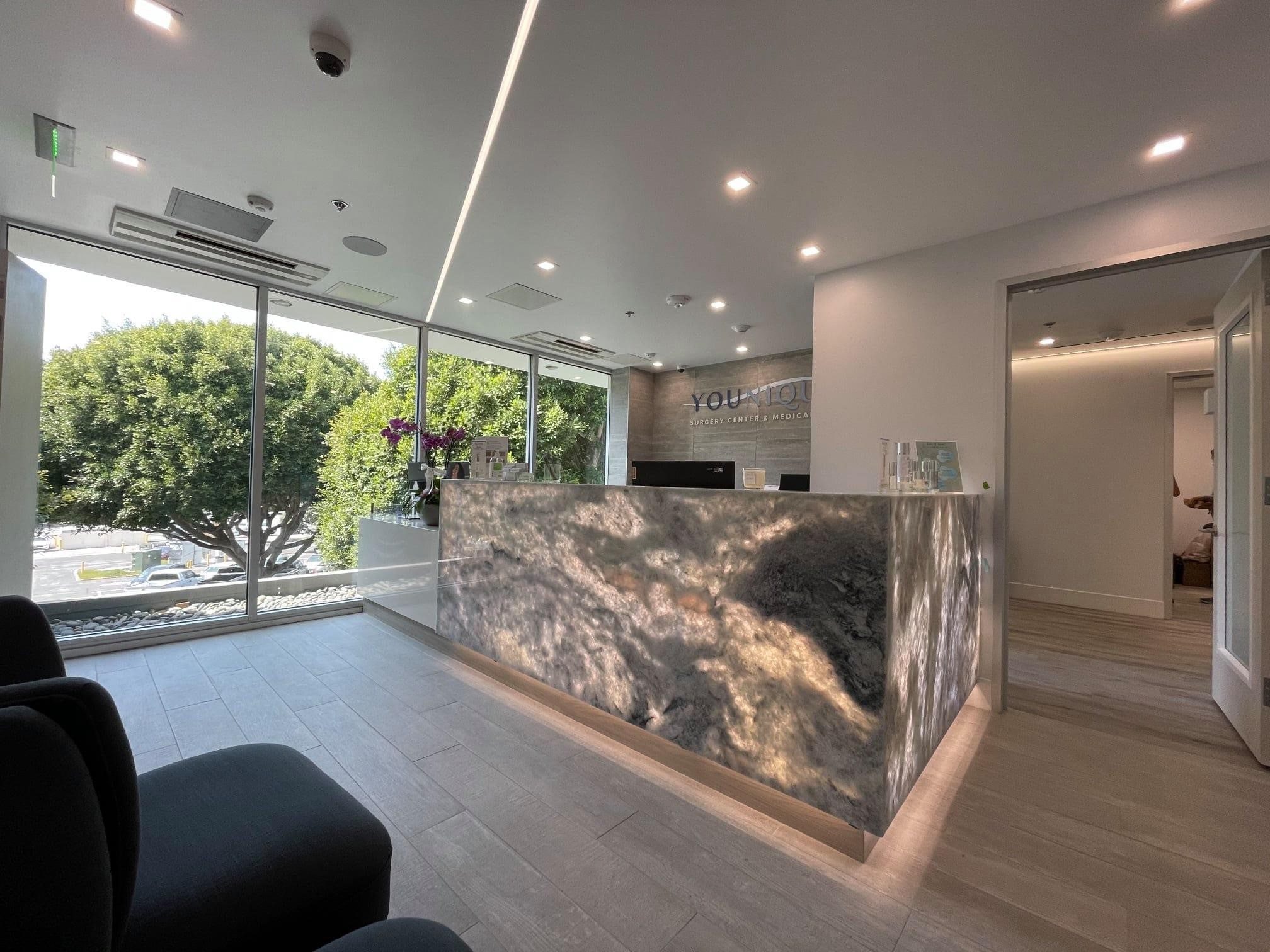 Abdominoplasty In Beverly Hills
Beverly Hills stands as a beacon of the world's highest standards, a community where discerning individuals seek transformative procedures to match their sophisticated lifestyles. At Younique Cosmetic Surgery Center, just a short drive away in Santa Monica, we recognize and rise to this challenge, offering unparalleled abdominoplasty services. Our expertise in tummy tuck procedures goes beyond mere physical transformation; it's a meticulous art form, curated to enhance and rejuvenate one's natural anatomy. Schedule a tummy tuck consultation today with Dr. Youssef by filling out the form below.
What is a Tummy Tuck?
A tummy tuck, or abdominoplasty, is a surgical procedure designed to flatten the abdomen by removing excess skin and fat. It can also restore weakened or separated muscles, resulting in a smoother and firmer abdominal profile. Whether it's due to aging, heredity, pregnancy, prior surgery, or significant fluctuations in weight, many people find themselves unsatisfied with the contour of their midsection. A tummy tuck can be the solution.
Who is a Candidate for Tummy Tuck?
Ideal candidates for a tummy tuck are individuals who are in good health, maintain a stable weight, and possess realistic expectations about the procedure's outcome. Non-smokers, or those who've quit well before surgery, find the best results. Those distressed by a saggy or loose abdomen that remains unresponsive to diet and exercise often turn to abdominoplasty as a solution. However, consultations with Dr. Youssef is essential to determine its appropriateness, especially for those considering future pregnancies or significant weight reductions.
The Tummy Tuck Procedure
At Younique Cosmetic Surgery Center, our tummy tuck procedure is tailored to the specific needs of each patient. It involves making a discrete incision between the pubic hairline and the belly button, from which excess fat and skin are removed. The abdominal muscles are then repaired and tightened, followed by the skin being carefully repositioned and any excess being trimmed away. The final step sees the incisions meticulously closed using sutures, skin adhesives, or clips, ensuring a smoother, rejuvenated abdominal contour.
Tummy Tuck Recovery
After undergoing a tummy tuck at Younique Cosmetic Surgery Center, patients can expect some swelling and discomfort, which can be managed effectively with prescribed medications. We recommend wearing compression garments to support healing and reduce swelling. Most individuals can return to non-strenuous work within two to three weeks, with a full recovery and resumption of regular activities typically observed by the six-week mark. Our dedicated post-operative care ensures our patients achieve optimal healing and results.
Where To Get Tummy Tuck Surgery In Beverly Hills?
Why make the journey all the way to Santa Monica for a tummy tuck? Simply put, Younique Cosmetic Surgery Center promises Beverly Hills standards without the Beverly Hills rush. Our state-of-the-art facility, paired with our highly experienced team, assures you an unparalleled experience and impeccable results.
Schedule a Tummy Tuck Procedure in Beverly Hills
If you're a Beverly Hills resident considering a tummy tuck, look no further than Younique Cosmetic Surgery Center. Our proximity to Beverly Hills, combined with our reputation for excellence, makes us the ideal choice for those seeking an elite abdominoplasty experience. Contact us today by filling out the form below or by calling us at (310) 434-0044 and take the first step towards the sleeker, more confident you.
Medically Reviewed by Mark Youssef, MD 5 stars from 150 reviews
Younique > Beverly Hills >
FOLLOW US
Patient Reviews
Dr. Youssef and the Younique staff are amazing. Clean office, professional staff and even better results. Younique did a great job with my Beverly Hills Tummy Tuck procedure and I could not be happier. Highly recommended.
Are You Ready For The Next Step?