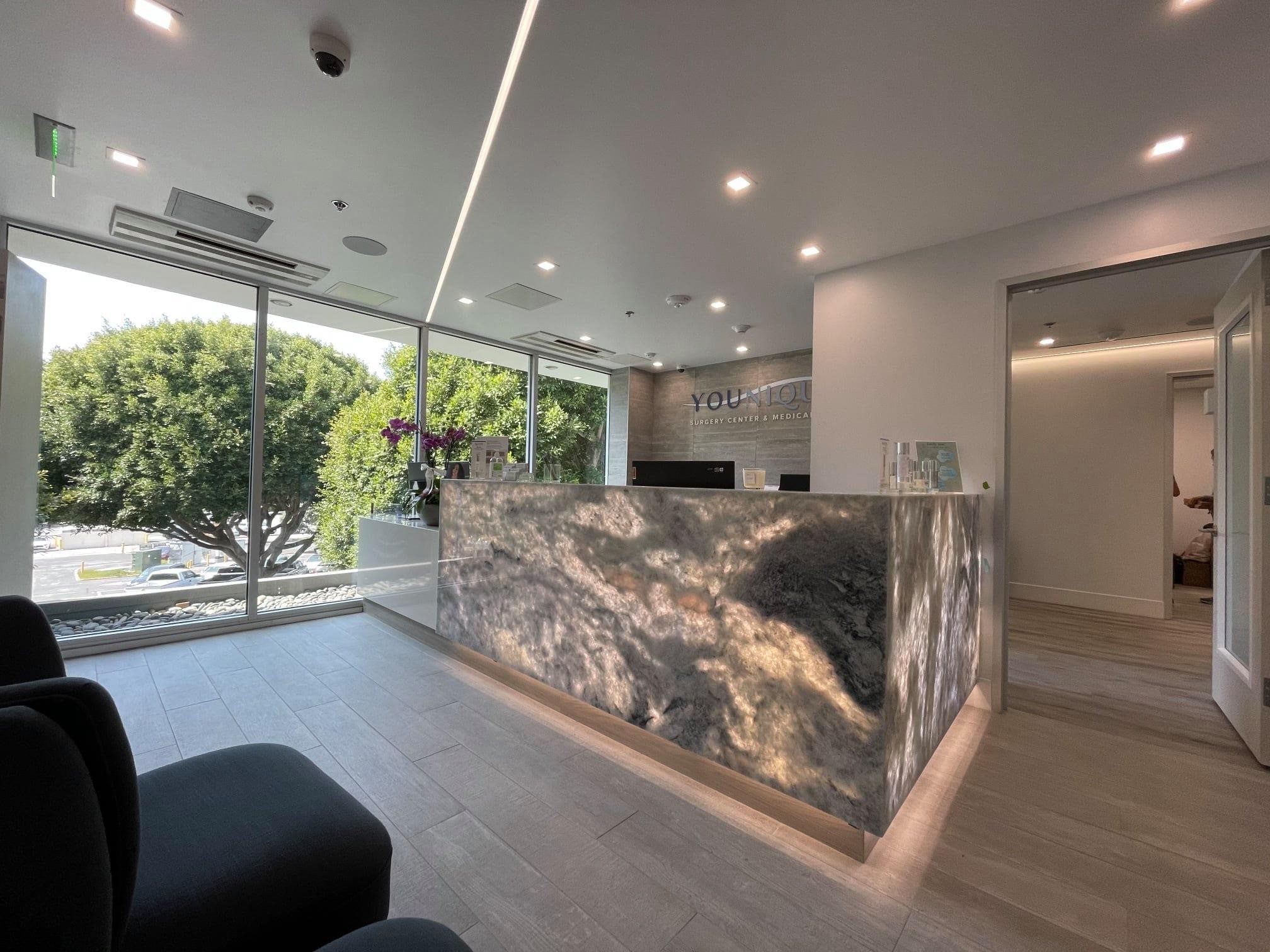 Santa Monica June Specials
JUNE SPECIALS
Enjoy this months specials as we give away your favorite treatments at a discount you won't beat anywhere else. For this month's June Sale, Younique Surgery Center & Medical Spa in Santa Monica is offering savings on Radiesse, Daxxify, Liposuction, and Ketamine.
Read below for details. *Offer ends 6/30
These specials won't last long. Call us at (310) 434-0044 to hear more information or submit a consultation request form now to begin saving.
Radiesse – BOGO 50% off
Calling all amazing dads out there, all month long, we have a special treat just for you. Get ready to experience the ultimate transformation with our exclusive promotion featuring Radiesse filler, the secret weapon for dads who want to look a little more dapper, and the ultimate confidence boost!
And for the women who put up with them? Are those laughter lines and wrinkles starting to sneak up on you? Don't worry because Radiesse is here to save the day! Say goodbye to the signs of aging and hello to a rejuvenated and youthful appearance. This incredible dermal filler is perfect for anyone who wants to turn back the clock and regain their vibrant glow.
Radiesse is a versatile dermal filler that can help improve various areas of the face, providing a refreshed and youthful appearance. Here are some key areas where Radiesse can work its magic:
1. Cheek Augmentation: Radiesse can enhance the cheeks, adding volume and restoring youthful contours. This treatment can create a more defined cheekbone appearance and a subtle lifting effect.
2. Jawline Definition: By injecting Radiesse along the jawline, it is possible to create a more defined and sculpted look, improving the overall balance and symmetry of the face.
3. Hand Rejuvenation: Radiesse is not just limited to the face! It can also be used to restore volume and reduce the visibility of tendons and veins on the back of the hands, resulting in a more youthful and smooth appearance.
4. Hyperdilute Neck Tigtening: The hyperdilute form of Radiesse means that the filler is mixed with more liquid than usual, making it less concentrated. This allows for more widespread and subtle rejuvenation of the treated area. The treatment is typically used to restore lost volume in the face, such as in the cheeks or jawline, and can also be used to reduce the appearance of wrinkles and lines. The results of Radiesse Hyperdilute can last for a year or longer.
Remember, the results may vary depending on individual factors, so it's always best to consult with a qualified professional who can assess your specific needs and provide personalized treatment recommendations.
* Fine Print: MD, PA, NP, & RN's have different prices. Can purchase at any time to take advantage of the special, items are credited to your account. Items never expire, use at your leisure.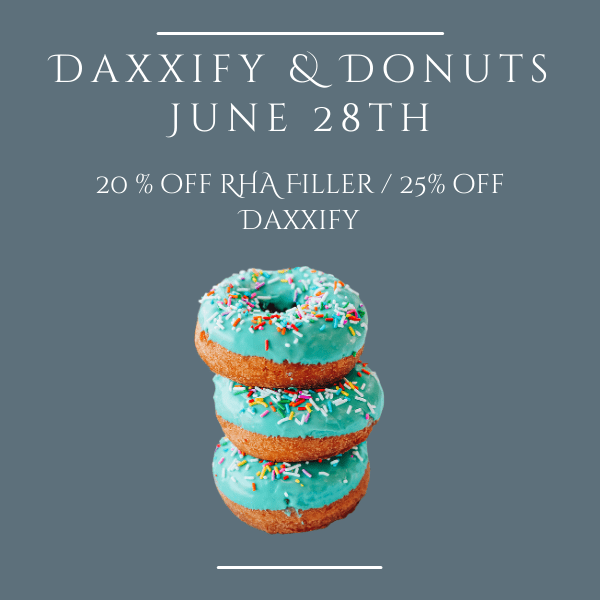 Daxxify & Donuts
June 28th
20% off RHA Fillers / 20% off Daxxify
Dads deserve Daxxify too! We are thrilled to invite you to a mouthwatering event that promises to tickle your taste buds and ignite your youth!
But first, you might be wondering, what exactly is Daxxify?
Well, let us enlighten you! Daxxify is the latest neuromodulator alternative to Botox and Dysport that revolutionizes the length of time your wrinkles are held at bay. With Daxxify, you can effortlessly get an average of 6 months or more out of one treatment. Whether it's your first time, or you're a pro, Daxxify has got you covered
Now, let's talk about the event itself!:
Prepare to dive into a world of delectable delights as we combine discounts on Daxxify and RHA with the deliciousness of donuts. Join us in person on 06/28 for networking with our vendor and providers. Receive full facial consults, learn about our products, and for those that attend receive a special gift!
For those that can not attend, we will be taking orders over the phone, and our online store will be open to take advantage of this promotional discount.
* Fine Print: reg $14/unit. Promotion only available for purchase on 06/28/23. Must have treatment by 12/31/2023 if purchasing over phone.. Donuts and coffee while supplies last.
Liposuction – $800 / area
Summer is just around the corner, and we understand that achieving your desired body shape is a top priority. That's why we're thrilled to announce our monthly special: Liposuction for a Sculpted Silhouette! Say goodbye to stubborn pockets of fat and hello to a more confident you.
Liposuction is a popular cosmetic procedure that helps remove excess fat deposits, contouring your body for a more proportionate and toned appearance. Our team of highly skilled surgeons utilizes advanced techniques and state-of-the-art equipment to ensure a safe and effective procedure. Whether you're looking to target your abdomen, flanks, bra fat, double chin, , or any other trouble spots, our expert surgeons will tailor the treatment to meet your unique needs.
By choosing our monthly special, you'll enjoy a discounted rate, making this transformative procedure more accessible than ever. Our experienced staff will guide you through the entire process, from the initial consultation to post-operative care, ensuring you feel supported and comfortable throughout your journey to a sculpted silhouette.
Don't miss out on this incredible opportunity to achieve the body you've always desired. Book your consultation today and take the first step towards a more confident and empowered you!
* Fine Print: reg $995 *Excludes OR & Anesthesia fees. Must have consult in June with a deposit, surgery must be scheduled before 07/31/2023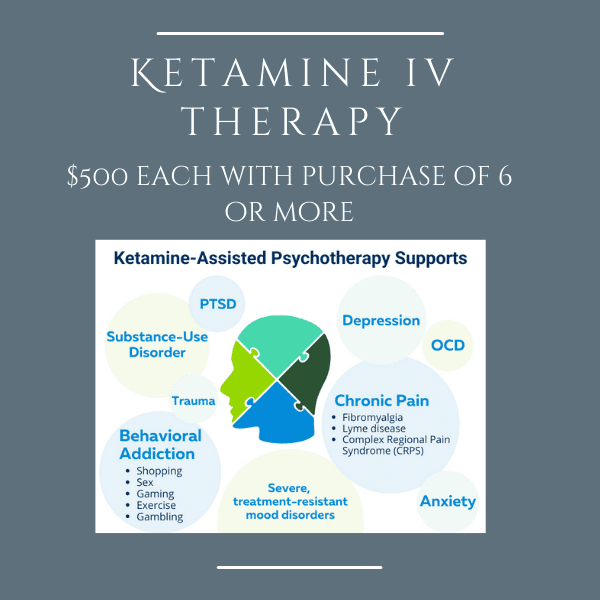 KETAMINE THERAPY
$500 each when you purchase package of 6 or more
We are excited to introduce our latest offering: Ketamine IV Therapy.
This cutting-edge treatment has been proven to effectively treat depression, anxiety, chronic pain, and PTSD, among other conditions. The benefits of this therapy include a fast onset of action, minimal side effects, and long-lasting results. Ketamine IV therapy has also been shown to be very effective for conditions that have been refractory to other medical therapies.
We also offer other additional mental health treatments that complement our Ketamine therapy. These include Vitamin IV infusions and BDNF growth factor injections. BDNF restores brain plasticity and encourages the growth of new neurons and connections in the brain. Based on the film "Limitless", this growth factor helps you think more clearly and supports healthy brain function. BDNF can also reduce the physical causes of anxiety and depression.
Fine Print: reg $600 each *Must have consult first to see if a candidate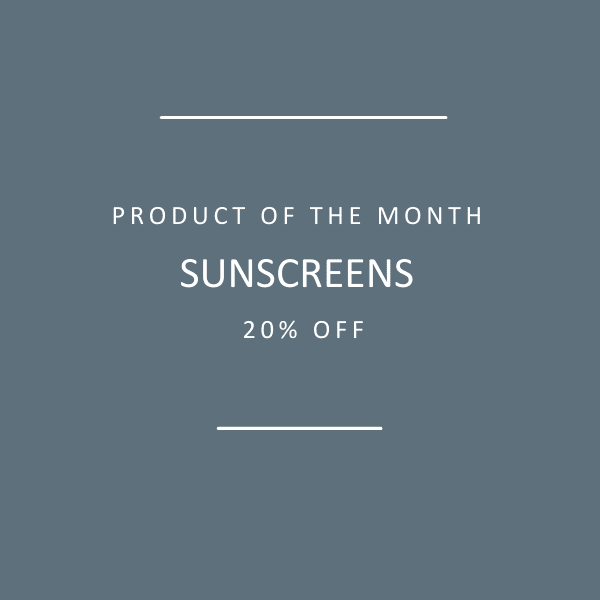 Product of the Month – 20% off Sunscreens
Medical-grade sunscreen offers several benefits compared to regular sunscreen. Here are some of the advantages:
Tinted or Un-Tinted
Broad spectrum protection
SPF 30+
Enhanced Photostability
Light weight, non-greasy, non-comedogenic
Anti-Aging Benefits
Fragrance-free reef-friendly formulation.
Water Resistant
ARE YOU READY
FOR THE NEXT STEP?