Helpful Resources:
What is a Brazilian Tummy Tuck?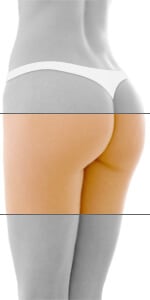 Tummy tuck and Brazilian butt lift are two separate procedures, but are often combined to produce results that many patients desire. We often combine the Brazilian Butt lift and tummy tuck in order to properly contour the whole midsection of the body. Therefore, the front of the abdomen is flat, which enhances the position contour we do to the buttock.
Does a Brazilian Butt Lift Require Fat Transfer?
Where does fat used for Brazilian butt lifts come from?
During a plastic surgery, specialists use a combination of liposculpture/liposuction and fat injections to create the most natural looking Brazilian butt lifts. First, a frame for the buttocks is created by using liposuction to remove fat from areas like the tummy, the love handles, the thighs, or the upper arms. Next, the fat is processed and purified to ensure the best longevity. The fat is then precisely injected into the buttocks to create the desired look. The fat is massaged to move it into the proper place, which allows for a fuller and curvier appearance. All of the injected fat won't be retained, but the fat is injected close to a blood supply to achieve the highest fat preservation rate.
Brazilian Buttock Lift Using Liposuction
It is important to distinguish that you cannot have a Brazilian Butt Lift fat transfer without lipo. During the procedure, your surgeon uses liposuction to gather excess fat from your thighs, flanks, and/or abdomen. The fat is then purified before being injected into your buttocks. The injections are done in a strategic way to give your butt the best aesthetic outcome in terms of lift, shape, and projection.
The best candidates for Brazilian butt lift operation have enough extra fat to harvest for the procedure, but aren't more than 30 pounds over their ideal weight. Patients must be in good general health and must be 18 years or older. Patients who are quite thin or whohave a low fat supply may be better candidates for butt implants.
Most people plan to take around a week off work following a Brazilian butt lift. Brazilian booty lift patients wear a compression garment and/or a Brazilian butt lift pillow for around a month. Although patients won't experience pain or discomfort in the buttocks, they may notice swelling and bruising. Additionally, the liposuction sites where fat was harvested may be sore or tender for several weeks.
Patients can expect around a 60-70 percent lifetime retention from surgery time! Learn more at the link above!